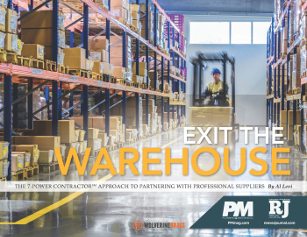 If you are running an in-house warehouse in addition to your contracting business I have some news for you – you're actually running two businesses at once! Take a look around your shop. If it looks more like you're in the supply house business than the contracting business, I'm betting that it's high time for you to Exit the Warehouse.
In this ebook brought to you by PM magazine and Reeves Journal, and sponsored by Wolverine Brass, I lead you step-by-step on how to get out of the warehouse business and let professional suppliers run your warehouse for you. Enabling you to focus more attention on running your business with less stress and more success.
The book is offered both as a PDF and in a neat digital format you can read online. Get it here: http://www.pmmag.com/eBook.